Summer is here and trendy mavens all over the metro are now re-vamping their closets in search for heat-proof fashion pieces that are sure to make heads turn. With tight budgets but discerning taste for quality, women are on the lookout for pieces that suit their fashionista tastes but do not necessarily dry up their coffers.

Avon Fashions Summer 2009 Collection provides the solution for frugal fashionistas with its 2009 summer collection of intimate apparel, jewelry and accessories. As a global authority on beauty and fashion, Avon considers global forecasts and trends and adapts them to the needs of the contemporary Filipina whose sense of style remains uncompromised despite the on-going economic slump. Avon Fashions' Summer 2009 Collection is yet another testament of Avon's commitment to fabulous fashion finds at amazingly affordable prices.

Avon Fashions Summer 2009 Collection boasts of splashes of rich tones that reflect exotic wildlife, pretty pastels, pulsating themes and colors as seen on the runways of New York, London, Paris and Milan.

Headlined by six fashion stories, French Riviera, Burst of Sunshine, Sultry Savannah, Coast Collection, Spring Paradise and Green with Envy, Avon Fashions Summer 2009 Collection took inspiration from key summer trends to create a stylish offering of intimate apparels, jewelry and accessories fit for fashion aficionados sans the hefty price tag.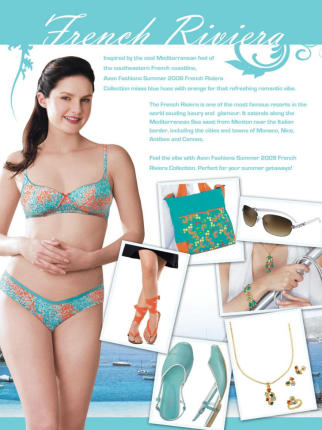 French Riviera Collection
Inspired by the cool Mediterranean feel of the southeastern French coastline, Avon Fashions Summer 2009 French Riviera Collection mixes blue hues with orange for that refreshing romantic vibe.
The French Riviera is one of the most famous resorts in the world exuding luxury, and glamour. It extends along the Mediterranean Sea west from Menton near the Italian border, including the cities and towns of Monaco, Nice, Antibes and Cannes.
Feel the vibe with Avon Fashions Summer 2009 French Riviera Collection. Perfect for your summer getaways!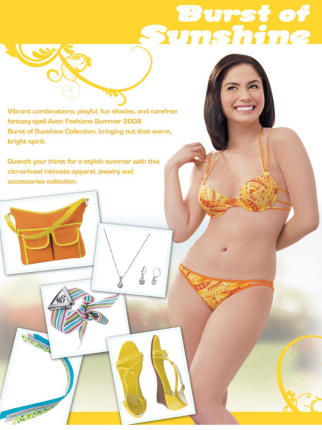 Burst of Sunshine
Vibrant combinations, playful, fun shades, and carefree fantasy spell Avon Fashions Summer 2009 Burst of Sunshine Collection, bringing out that warm, bright spirit.
Quench your thirst for a stylish summer with this citrus-hued intimate apparel, jewelry and accessories collection.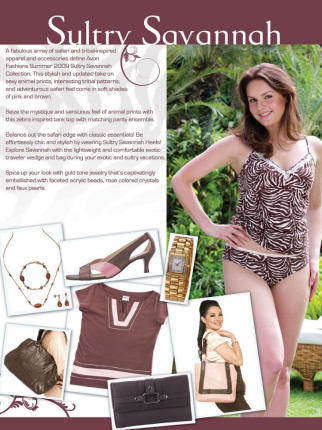 Sultry Savannah
A fabulous array of safari and tribal-inspired apparels and accessories define the Avon Fashions Summer 2009 Sultry Savannah collection. This stylish and updated take on sexy animal prints, interesting tribal patterns, and adventurous safari feel come in soft shades of pink and brown.
Seize the mystique and sensuous feel of animal prints with zebra inspired tank top with matching panty ensemble.
Balance out the safari edge with classic essentials! Be effortlessly chic and stylish by wearing sultry savannah's heels! Explore Savannah with the lightweight and comfortable exotic traveler wedge and bag during your exotic and sultry vacations.
Spice up your look with gold tone jewelry that's captivatingly embellished with faceted acrylic beads, rose colored crystals and faux pearls.
Coast Collection
Go "fashion ahoy" with Avon Fashions Summer 2009 Coast Collection --- a showcase of bright colors and nautical-inspired prints and design for a summer look that will surely make waves on and off the coast. This season, get ready for more stripes, geometric prints, reds, whites and blues as we go over board on this summer trend.
Make sure you're a savvy sailor with our candy Striped Bag, floral and geometric printed intimate apparel, stylishly updated in nautical hues.
Inspired by the nautical ropes that anchor a yacht to the marina and the crisp casual, chic style of boating enthusiasts, the Silver Coast Jewelry Collection is an embellished weave of textured and polished strands.
Make a splash and sail away this season with the Avon Fashions Summer 2009 Coast Collection.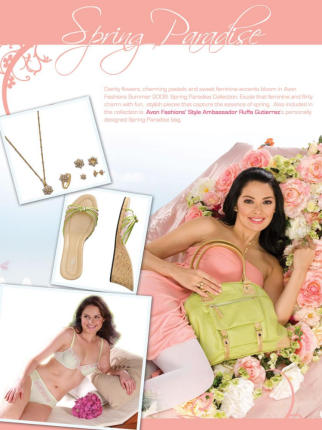 Spring Paradise
Dainty flowers, charming pastels and sweet feminine accents bloom in the Avon Fashions Summer 2009 Spring Paradise Collection. Exude that feminine and flirty charm with, fun, stylish pieces that capture the essence of spring. Also included in the collection is Avon Fashions Style Ambassador Ruffa Gutierrez's personally designed Spring Paradise bag.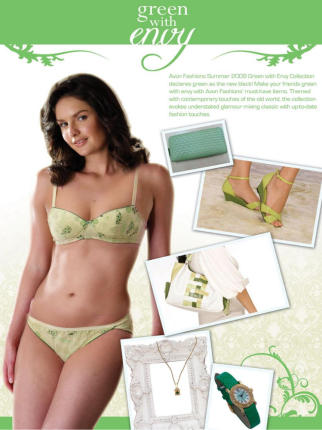 Green with Envy
Avon Fashions Summer 2009 Green with Envy Collection declares green as the new black! You're your friends go green with envy with Avon Fashions' must-have items. Intimate apparel goes green using organic inspired verdant floral prints that are sure to revitalize and reenergize your style.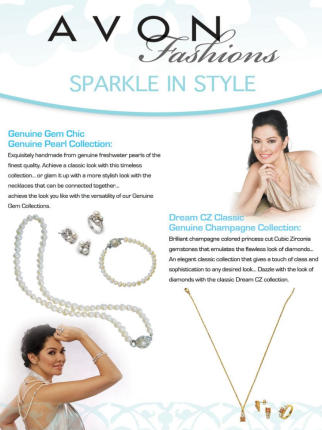 Sparkle in Style
Genuine Gem Chic Genuine Pearl Collection: Exquisitely handmade from genuine freshwater pearls of the finest quality… Achieve a classic look with this timeless collection… or glam it up with a more stylish look with the necklaces that can be connected together… achieve the look you like with the versatility of our Genuine Gem Collection.
Dream CZ Classic Genuine Champagne Collection: Brilliant champagne colored princess cut Cubic Zirconia gemstones that emulate the flawless look of diamonds... An elegant classic collection that gives a touch of class and sophistication to any desired look… Dazzle with the look of diamonds with the classic Dream CZ collection.